Green Schools 2023/2024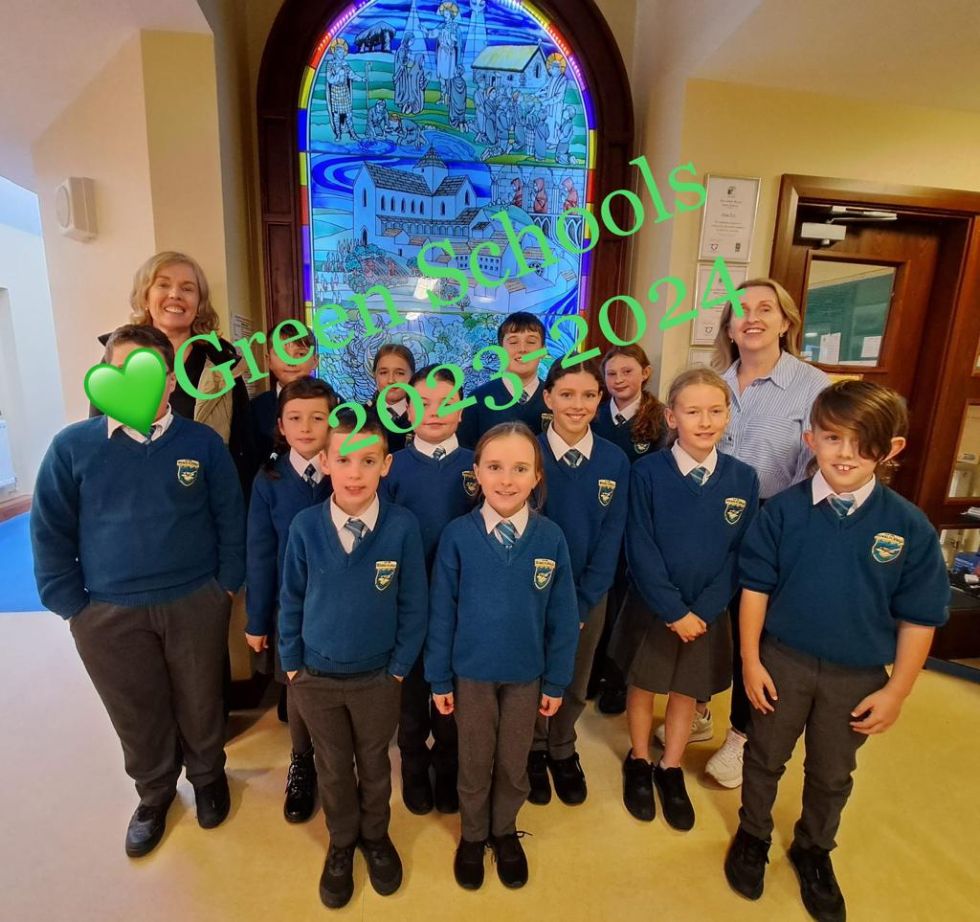 We are very proud to be a Green School.Each year a Green Schools committee is set up to represent all the pupils in our school and to promote environmental care and awareness throughout our school environment.
At present we are working towards achieving our ninth green flag.The focus is on Global Citizenship Travel.
We have already been awarded green flags for the following:
1.Litter and Waste: This was our first theme. It focused on litter and waste issues and encouraging a sense of responsibility in these areas.
2.Energy Awareness: We looked at the steps which can be taken at school to reduce energy consumption and raise awareness of climate change
3.Water Conservation: We developed awareness around water conservation and how to effectively manage this important resource in our school.
4.Travel: We aimed to increase the number of students/staff carpooling to school in particular.
5.Biodiversity: We increased our awareness of the importance of native plants, animals and habitats.
6.Global Citizenship-Litter and Waste: This enabled us to discover how work on Green-Schools has positively influenced our global community.
7.Global Citizenship-Energy: We found out how our energy use has an impact on the global community.
8. Global Citizenship-The Marine Environment:enabled us to discover how our work on the Green-Schools programme has positively influenced people and their local environments worldwide while focusing our work on our oceans and seas.
We are now working towards our ninth green flag based on the theme of Global Citizenship – Travel. This theme gives us the chance to discover how our work on the Green-Schools programme is having a positive effect on global issues including air quality and sustainable development.Our committee are already working on this theme and will post updates on our progress over the year. Part of the committee's role is to help implement the seven steps to help us achieve our ninth flag. But they must also remind us about separating our waste into the correct bins, turning off lights, closing doors and not running the water when unnecessary.
Here are our Green School Slogans:
Litter and Waste

Remember the Rule

Recycle at school

Then let Creevy brag

Of their green flag

Energy

Energy to save?

You gotta behave

Switch off that light

For a flag so bright

Biodiversity

All our creatures play a part

Bee kind Bee gentle and Bee smart

Global Citizenship Litter and waste

Leave that plastic in the store

Renew reuse recycle more

Global Citizenship Energy

Global Citizenship Marine Environment

From the reefs to the deep

from the coral to the kelp

Our ocean is dying

We need to help

Global Citizenship Travel

Are you aware?

Idling is bad for our air!
Meet our Green Schools Committee for 2023/2024
Chairperson: J.Mc Gloin
Secretary: A.Gallagher
2nd Class: Isabelle Guinan
Cadán McCaffrey
3rd Class: Eoghan Patton
Róise McGrath
4th Class: Robyn McNamee
Jamie Buckley Byrne
5th Class: Dáire Reynolds-Magee
Emily Kane
Amelia Coyle
6th Class: Diarmuid Fox
Tiah Kane
Emily Gallagher
Creevy National School, Creevy, Ballyshannon, Co Donegal ,Donegal South F94X766 Phone: 071 9852090