Active Flag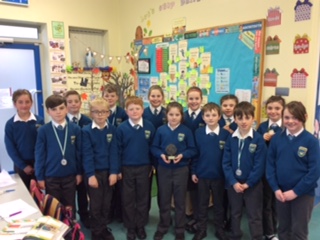 The Active School Flag (ASF) is awarded to those schools that strive to achieve a physically educated and physically active school community. The process aims to get more schools more active more often.
Schools wishing to achieve the ASF begin the process by self-evaluating their current provision across 3 areas: Physical Education, Physical Activity and Partnerships. Schools must also organise an Active School Week programme and commit to having it as part of their annual school calendar. Schools that can say 'yes' to all of the ASF success criteria will be awarded with the active flag. The flag remains valid for a period of 3 years, after which time schools will be invited to re-apply.
ASF is a Department of Education and Skills initiative supported by Healthy Ireland. Below is an outline of work completed by our school recently.
We achieved our Active School Flag in 2017 and regard this achievement as one of our most significant to date, bearing in mind the potential children have to move more in the technology-driven world of today. We are proud to see our Active School Flag flying in front of our school and continually strive to maintain and further develop the initiatives that led to this award.
So far this year we have participated in the following activities:
September 2018: Gaelic Football skill development throughout the school
"Virtual run" visit by Nikki Love to 6th class
Cross Country running
October 2018: Hurling skill development 6th class
Teacher attended playground activities CPD course and reported back to staff meeting
November 2018: Ag Súgradh Le Chéile Play Workshop for Junior Infants and their parents.
Hurling skills coaching for 6th class.
December 2018: 4th, 5th and 6th Class taking part in Lunchtime Gaelic League
Creevy National School, Creevy, Ballyshannon, Co Donegal ,Donegal South F94X766 Phone: 071 9852090