Active Flag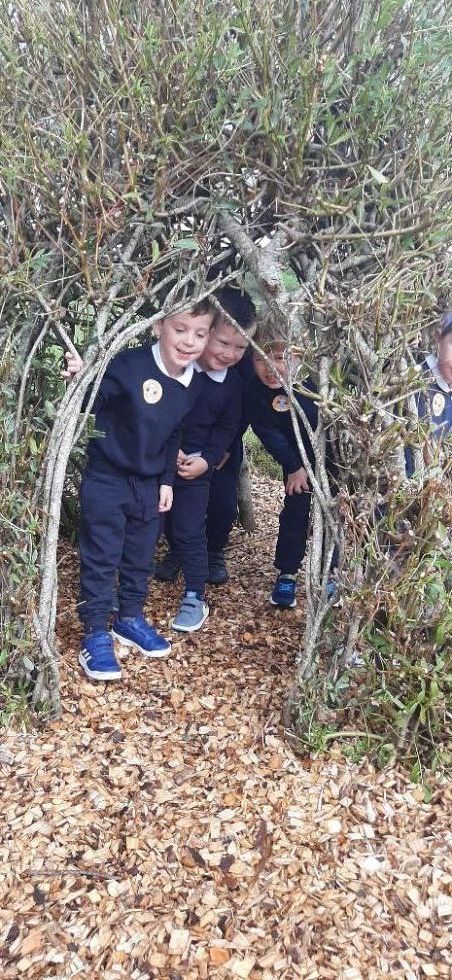 Physical Education
Tuesdays and Thursdays are the PE days in our school this year. Children should wear their PE tracksuit and runners. While these are our timetabled PE days, each day the classes enjoy physical breaks. There are six strands in the PE Curriculum: Athletics, Dance, Gymnastics, Games, Outdoor and Adventure and Aquatics. The class teachers cover each strand over the course of the year.
This year we decided to focus on Outdoor and Adventure as part of our Active Flag activities. We developed our Active Schools Walkway, a 500m loop of our outdoor space, starting at our woodland walk; an exciting outdoor space where the children love to run, jump, hide and explore. The class have enjoyed engaging in orienteering activities and walking/running around the walkway.
As part of our focus on outdoor and adventure we also planned outdoor tours this year, which also happened to be very Covid friendly. Our junior classes visited the local open farm Castle Adventure and what an adventure they had! Our senior pupils went for surfing lessons and a day out at the Rossnowlagh Beach. These tours were a great opportunity for all pupils to enjoy fun and active local amenities together as a group.
The school year will conclude with a focus on the aquatics strand. Each class will complete Irish Water Safety's Land PAWs programme. Thank you to local IWS volunteer Aidan McGuinness who will speak to each class and help prepare the pupils for a safe summer of swimming, surfing and pier jumping ahead!
Physical Activity:
Run around Ireland
During March and April we have been taking part in the 'Run Around IRELAND' challenge. We have been using our newly mapped walkway as our route each day. We've really enjoyed counting the kilometres and learning about Ireland's famous landmarks along the way.
Climb the Heights Challenge
In February while working from home the boys and girls undertook the Climb the Heights Challenge. Children recorded the number of skips or jumping jacks they did each day with their families. Each skip or jump equaled one metre. Gradually, they climbed all the mountains in Europe. Well done to rang a haon, they were the most determined group and completed this challenge on their second day back to school in March. Thank you to active school representatives Aisling and Matej and the class teacher Ms. Conneely for encouraging the class to keep going and reach the top. As a reward for their achievement, 1st class got an extra playtime in our Woodland area. Well done everyone for great participation
Active Break times in Creevy
In term one the active school committee were busy leading the active lines at the end of playtime. Here is a little slideshow of some of the Junior Classes staying active while outdoors.
Active Break Times in Creevy NS
Partnerships:
Even with Covid restrictions in place we were fortunate to be in position to continue to engage with well established partnerships and build some new links with local sports groups. Thank you to Ballyshannon Rugby Club coaches Kenneth Vaughan and Jonathon Coyle for coaching all eight classes during Active Schools Week.
Thank you also to Finn Harps Academy Coaches Andrew Wilson and Conrad Clarke for teaching pupils all about the skill of dribbling this year. The children really enjoyed these fast paced sessions.
Our long standing partnership with the Donegal GAA and local club Aodh Ruadh continued this year. During lockdown many of our pupils completed the Aodh Ruadh Coast to Coast Fundraiser which we promoted, walking or running 200km with their families. In March we were delighyed to welcome GAA Coach Brian Roper back to the school for some outdoor GAA coaching.
Aidan McGuinness for Irish Water Safety Ireland is visiting the school to help the teachers teach the Land Paws Programme and develop their water safety skills before the busy summer season.
The junior classes completed the Ag Súgradh le Cheile home resources during the month of February while working remotely.
2020/2021 School Year - Time for Active School Flag Renewal!
Our active school committee is busy planning lots of ways to keep the pupils and staff healthy and active during these strange pandemic times. Last month we completed the active movement break challenge. Each class had at least one additional movement break per day.
The committee also set up the active lines initiative and the committee members ensure the children keep exercising in their pods while lining up at the end of break times.
The committee are currently choosing four of the fifteen fundamental movement skills for our school to focus on after Christmas, as part of our commitment to the Active Schools initiative.
The 2020/2021 Committee includes pupil representatives from 1st – 6th Class: Aisling, Matej, Pauric, Katie, Tiah, Dearbhla, Zac, Micheál, Rose, Aodhbha, Callum, Finn D and Niamh D.
Active School Flag Initiative:
The Active School Flag (ASF) is awarded to those schools that strive to achieve a physically educated and physically active school community. The process aims to get more schools more active more often.
Schools wishing to achieve the ASF begin the process by self-evaluating their current provision across 3 areas: Physical Education, Physical Activity and Partnerships. Schools must also organise an Active School Week programme and commit to having it as part of their annual school calendar. Schools that can say 'yes' to all of the ASF success criteria will be awarded with the active flag. The flag remains valid for a period of 3 years, after which time schools will be invited to re-apply.
ASF is a Department of Education and Skills initiative supported by Healthy Ireland.
We achieved our first Active School Flag in 2017 and regard this achievement as one of our most significant to date. We are proud to see our Active School Flag flying in front of our school (although it is pretty weather-beaten at the moment) and continually strive to maintain and further develop the initiatives that led to this award. This year we seek to renew our flag.
Creevy National School, Creevy, Ballyshannon, Co Donegal ,Donegal South F94X766 Phone: 071 9852090